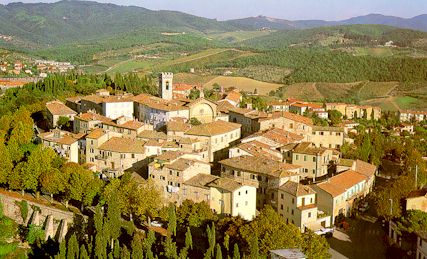 On Thursday I rode up to Radda from Siena and installed myself in a hotel here, with the intention of getting in a couple of rides on or around the Eroica course. I stopped in Gaiole, where Eroica starts and finishes, before climbing another 350m towards Radda.
Yesterday's ride was a goody- I rode down to Gaiole and found the
CR list
gang (Bob Freitas, Mike Schmidt, Jamie Swan, Guy Apple, Courtney & Jennifer Johnson) lurking in the square. We headed (I thought) onto the first part of the Eroica course, but decided we were lost after about 10km ( all uphill). Went down an interesting looking white road to Starda, a dot on the map with a
restaurant
. Ate, drank the house red, then went back the way we came.
Stopped in Gaiole for a beer, then headed up to Radda the hard way, which climbs to over 600m. I think about 60km in all, but with more altitude gained than the
K1
ride.
Decided on a rest day today (Friday)- had a mid-morning nap, gave Cecil a clean, then headed down to Gaiole for lunch.
None of the CR gang who are staying there were evident (most have wives who must be placated with shopping trips etc), so headed back up to Radda with a stomach full of spaghetti, beer & gelato.
When I got back to the hotel, Andy Hampsten's
tour company
was unloading a vanload of clients, so Cecil no longer has the garage to himself, and is looking scruffy but staunch next to the array of Colnagos,
Hampstens
, Merckxs, and one very cool Masi Gran Criterium. The influence of Grant Petersen is everywhere- Brooks saddles,
flat pedals
, even a
Bleriot
, Rivendell's's new 650B wheeled bike, with single chainring and huge rear sprocket.
Tomorrow, the official Eroica program begins, but I might try for an early ride up to Greve (about 50-60k round trip if I don't get too lost).